Choosing the Right Finish for your Polished Concrete Floors
Are you looking to give your home or business space a makeover? Look no further than Polished Concrete Melbourne! Not only are they stylish and easy to maintain, but they can also give off an air of sophistication.
Whether you're looking for a high-gloss finish or something more subtle, there's a polished concrete floor finish out there for everyone. From the popular grind and seal method to the durable terrazzo option, there's no shortage of ways to customise your floor's look and feel.
In this blog post, we'll provide everything you need to know about choosing the right finish for your polished concrete floors. We'll go over what all the different options are, how each one works, and which one is best suited for you. So get ready—it's time to upgrade your floors with polish and style!
Types of polished concrete finishes
When choosing the perfect finish for your Polished Concrete Melbourne floors, there are two main approaches: grind and seal or mechanically polished. Let's take a look at the differences between them!
Grind and seal:
First, let's talk about grind and seal. This particular method involves grinding down the concrete with a diamond floor grinder—typically to a low sheen—and then sealing it with a polymer-based sealer. The result is an esthetically pleasing surface that is durable and relatively low maintenance.
Mechanically polished:
Alternatively, you could opt for the mechanically polished finish. This approach requires more refinement and is known as the industry standard when it comes to polished concrete surfaces. It creates an incredibly flat and level surface as well as a beautiful glossy sheen—all without any sealant applied on top!
Once you understand the different types of polished finishes available, you can make an informed decision on which one works best for your project while also achieving the desired aesthetic results.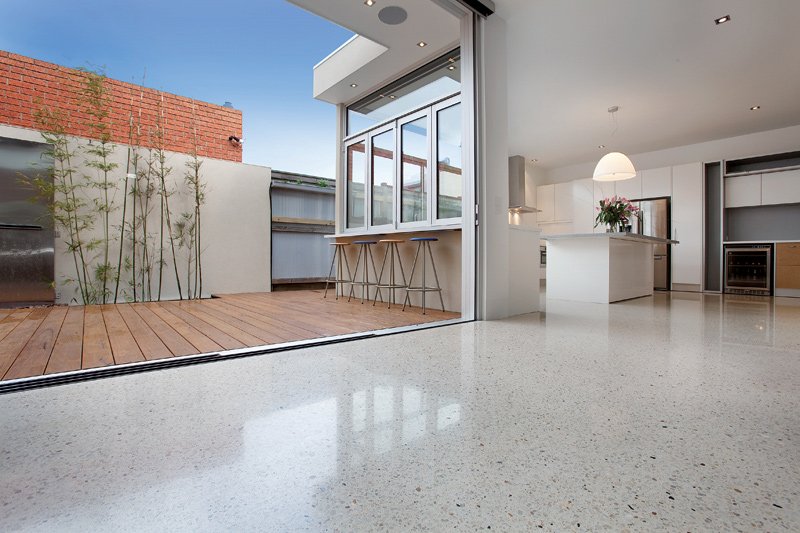 Styles of polished concrete floor finishes
Your polished concrete floors can be enhanced with a range of finishes! Deciding on the right one for you is all about finding the perfect balance between esthetics and wear resistance.
Deciding on the right gloss level for your polished floors
One factor to consider is the gloss level you would like for your concrete floors – it ranges from high-gloss to satin and matte. High gloss is more likely to show scratches and imperfections but provides an elegant, glossy look; while matte and satin are low maintenance but don't reflect light as much as high gloss.
Aggregate exposure
Another factor to think about is aggregate exposure, which refers to how much of the stone or gravel in your concrete composition you want visible on the surface. More exposed aggregate will lead to a rougher texture with more shine, while less exposed aggregate will give your polished concrete a smoother finish but less sheen.
No matter what glossy level or aggregate exposure you choose for your polished concrete floors, you will be able to enjoy a sleek and modern look that is bound to add character and style to any room!
How long do polished concrete floors last?
Let's talk about longevity. The good news is getting Polished Concrete Melbourne for your floor is last for a long time—sometimes up to two decades with proper maintenance. In fact, most polished concrete floors are still performing well after 25 years.
So if you want to invest in a concrete floor that will last you for years to come, it's important to consider the type of finish and the environment it will be installed in. 
For example, cafes and restaurants may require a more durable finish, such as an impregnating concrete sealer or acryl-based sealer for high-traffic areas, and warehouses may prefer an epoxy or polyurethane treatment for easy cleaning purposes.
Commercial offices may benefit from a wax finish as it is easier to apply and maintain over time. When talking about finishes, it's important to consider your floor's needs and what type of environment it will be exposed to on a daily basis.
Conclusion
Polished concrete floors are not only low-maintenance, but they also have an esthetically pleasing effect. When choosing Polished floors, it's important to consider the level of reflectivity you want and the level of slip resistance you need. The prestige floors service team is here to help you with the best preferences, and you can go for a glossy mirror-like finish or a matte finish that enhances the natural colour of the concrete.